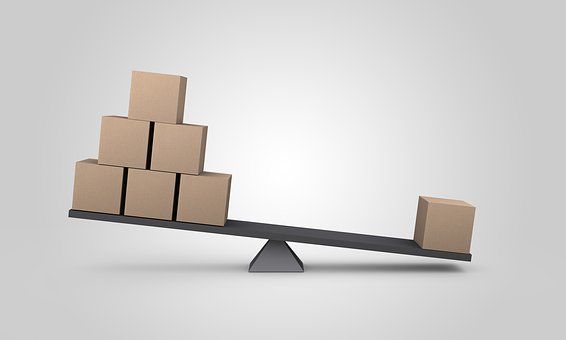 We are sometimes asked how we compare to other marketing tools like Constant Contact or MailChimp. Let's be honest. These email marketing tools have been leaders in digital marketing. MailChimp is a neighbor company and an inspiration to us in creativity and focus.  These companies have built phenomenal products which satisfy the needs of many businesses. CrowdFiber, in comparison, was built from the ground up to meet the needs and demands of utility and telecommunications businesses. Here's a breakdown of the differences in features and approach.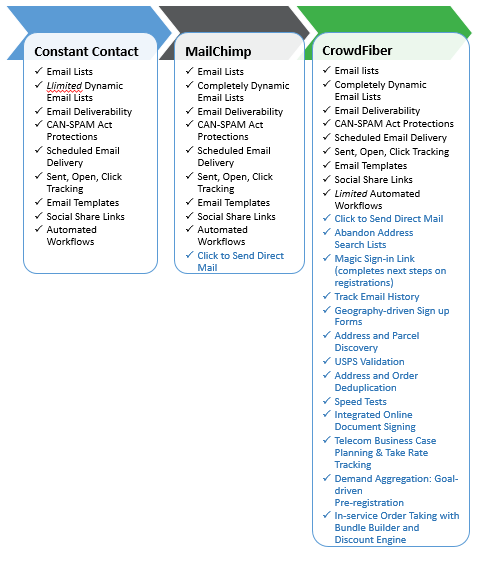 Email marketing
Constant Contact and MailChimp specialize in email marketing. They provide the code to pop a signup form on a website to collect email addresses.  They can segment the email lists, provide templates to build email campaigns and track responsiveness to those emails. Their template marketplace is brimming with ideas and the email editor includes a visual builder.
Crowdfiber does all of that, and more, adding to that additional services such as: address search widget, custom registration workflows based on geography & market, survey, targeted updates, plus a full address discovery and order management suite of tools.
We'll admit, we don't yet have a template marketplace or visual builder, and we only offer one pre-built template to start.   However, our platform is completely themeable and you have access to create your own templates stylesheets. You can even design an email in another tool, and copy that right over to our system for use alongside our other benefits.
As with all areas where we know we can improve, we'll build these features the way we do all of them: uniquely geared to meet the needs of telecom industry based on the requests and input from our customers.
Reports & Data
Constant Contact and MailChimp provide both real-time tracking and reports of email opens and clicks and basic statistics on your list performance over time.  In addition, they offer A/B content testing where multiple subject lines can be configured and the "winner" after a certain portion of the list is sent will be sent to the remaining list. MailChimp is the clear winner on A/B testing.
In addition to tracking email opens and clicks,  CrowdFiber discovers actual street addresses and parcels within your defined territories or areas. CrowdFiber tools deduplicate and clean up bad data, validate addresses and ensure postal deliverability so no resources or efforts are wasted.
Customers use CrowdFiber zone and map tools to track both address searches (leads) as well as registrations or orders for service.  Telecom service providers utilize CrowdFiber to identify and nurture area "champions" who assist with digital and real world referral marketing to neighbors.  CrowdFiber provides the tools to track actual take rates, market penetration, and establish and work towards goals internally or transparently to members or customers.  Filters for email deliverability exist alongside dozens of other geographic and behavioral variables for future marketing and sales follow-up activities.
While large sets of emails may be sent occasionally, we've found that the most effective emailing is targeted to specific geographic territories and therefore customized for the reader beyond what standard A/B testing would accommodate.  Our highest performing campaigns are delivering email communication on average every 10-14 days.
Direct mail and print materials
Rural telecom providers have additional challenges to being discovered.  Due to the realities of rural broadband networks, email and social media are often not the best ways to increase sales or build subscribers.  CrowdFiber has a direct mail management system so that you can upload your creative for a postcard or letter, select your desired list, and click to send. All printing and postage are included in the flat rate unit costs. Address lists can be targeted by more than 20 filters including those addresses which were searched but not yet registered for service.
MailChimp has just launched a direct mail service.  It does feature beautiful templates and an HTML builder, but list building is restricted to what is imported to the system or integrated with a third-party application.
Broadband Orders and pre-registrations
Crowdfiber acts as an interactive extension of your business to your customers. In addition to email marketing, you can build out highly personalized and tailored experiences for your users that allow you to compete more effectively, collect orders or expressions of interest around the clock, and automate some critical steps in the subscriber journey.
Crowdfiber acts as an interactive extension of your business to your customers. In addition to email marketing, you can build out highly personalized and tailored experiences for your users that allow you to compete more effectively, collect orders or expressions of interest around the clock, and automate some critical steps in the subscriber journey.
Bundle builder – so your clients can select the products and services they need while benefiting from any discounts, bundles, required add-ons, or upsells that you might want to offer.
Rules-driven Agreements and PDF form templates – Based on product and market (residential, commercial, etc) selection, CrowdFiber will assemble agreements according to rules you set. You can use CrowdFiber to create document templates that will automatically be filled with any information gathered during sign-up and collect other specific information needed for provisioning.
Legally Binding Signatures – no unnecessary delays with the implementation of e-signatures with contracts. Customer interest can be collected, order signed, and ready for billing and provisioning on the same day.  And for those broadband service providers who send out signature requests after an order has been submitted (for example, a pre-registration area moving into construction), we see on average 50% signature completion rate based on the first email request alone, and 80% following first reminder email.
If you are using Constant Contact or MailChimp for collecting interest, you will need to solve geocoding, online ordering of (sometimes complicated) product structures, and document signing through additional vendors or methods.
Business-to-business telecom sales
Telecom and broadband providers have to meet the demands of being both a consumer and business service provider (and many may do more of one than the other).  We've found that great telecom sales systems need to provide tailored experiences to business or enterprise subscribers which may include specialized bundles, quoting, sales rep management, deal tracking, and sales funnel visualization. These are all areas where CrowdFiber provides integrated solutions.
Constant Contact and MailChimp can provide list segmentation and welcome emails tailored by specific sign-up fields.  However, these systems are meant to work in partnership with a fully-featured CRM or sales platform when it comes to B2B engagement.
Social media
Constant Contact has a robust social media management component.  MailChimp allows for integration and automated posting of emails.
While social media management is not an area of focus for CrowdFiber,  we do provide the basic sharing links for subscribers along with basic tracking of those shares.  In addition, service providers can add any Google tags or Facebook pixels for retargeting of ads and integrated analytics.
Industry expertise
Constant Contact and MailChimp are fantastic email marketing platforms for general businesses, freelancers, and entrepreneurs.  Heck, our staff have used these products in past work and a few very loyal customers of ours use both platforms (it's your data after all!)
However, there is one key difference that we believe makes all the difference. CrowdFiber exists exclusively for broadband service providers and utilities. Our founders bring serious industry expertise and decades of work as engineering, business, and marketing consultants. Customers like you have driven its development and we update the platform every week with features that routinely get giggles and tears and consistently reported time-savings, business improvement, and customer happiness.
Is there an email marketing feature you are crazy passionate about?
Let us know!
Otherwise, schedule a demo if you want to see how CrowdFiber compares for yourself!